White Acoustic Panels
Polyester white acoustic panels are classic and stylish acoustic panel with the highest acoustic rating for a variety of interior designs. Create a chess board on the wall, or use a wave-shaped baffle to surprise passers-by. Simple and beautiful, the pattern is charming.
As the name suggests, black and white acoustics panels are our classic collection. Square and rectangular sound absorbing panels are suitable for use as collages, as separate sound absorbing panels or in combination with our other products. Square acoustic treatment panels are especially popular in our space dividers. In addition to the wavy and smooth model, the collection also includes a sound-absorbing panel with a labyrinth that makes it easy to build striking structures – as shown in our photo.
White Acoustic Panels Description
Material: 100% polyester
Acoustic performance: NRC > 0.8
Flammability: ASTM E84 / GB8624-2012
Environmental protection: GB/T2912.1-2009 Class E1
Standard thickness: 9 mm (0.35″) and 12 mm (0.47″)
Standard size of raw materials: 1220 mm x 2420 mm
Shapes: rectangles, squares, geometric shapes, 3D shapes or other custom shapes.
Installation method: use structural glue, velcro, hanging clips or other methods to install.
Colors: white, light gray, dark gray and black, etc.
Features: sound insulation, flame retardant, environmental protection, heat preservation, moisture resistance, excellent decorative effect.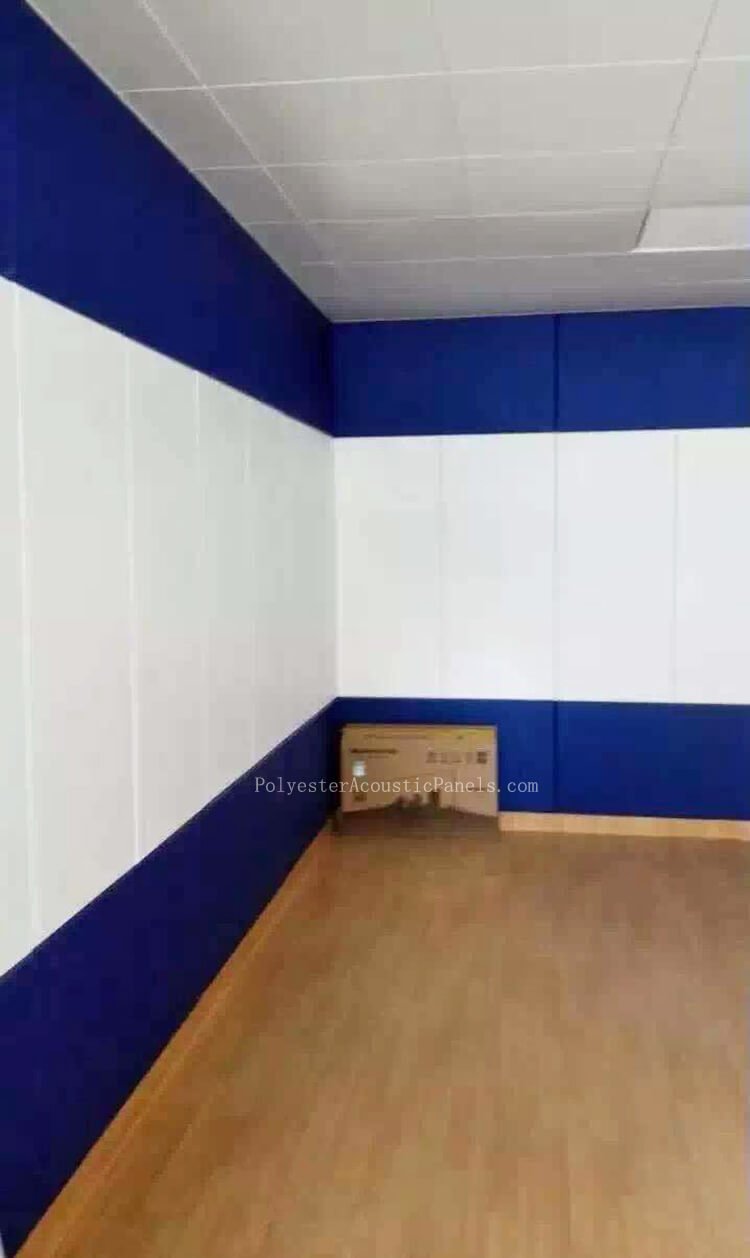 Materials
The white acoustic wall panels are made of 100% polyester felt and are free of solvents or other chemicals. Acoustic filling uses recycled fibers or new polyester fibers. This material is recyclable. Fire rating (EN 13501-1:2002): B-s1, d0. Fiber raw material emission level: M1. Allergiatunnus certification from the Finnish Association of Allergy, Skin and Asthma.
The highest NRC value:
Polyester acoustic panels white board has an high NRC that provides high sound absorption compared to any other acoustic material.
Classification
The sound absorption rate of white acoustic panel was determined in the laboratory according to ISO 354:2003.
White Acoustic Panel Installation
Polyester black and white acoustics panel is easy to install with screws or double-sided sticker tape. This means no special tools are needed.
Rigidity:
Although the polyester white acoustic wall panel is very light, it is strong and does not shrink or sag.