Geometric Acoustic Panels
The polyester geometric acoustic panel is an acoustic board that provides excellent acoustic performance by reducing reverberation. The eco acoustic panels are an affordable solution for building soundproofed ceilings in any residential or commercial space where reverberation or reflected noise is a problem.
With polyester interior acoustic panels, we are able to provide environmentally friendly and cost-effective alternatives when needed. We are a leading manufacturer of soft sound acoustic panels for the industrial, architectural, commercial and construction industries.
Polyester geometric acoustic panels offer great flexibility in acoustic applications and installations as sound absorbing products for wall ceiling and pipe applications. It is an environmentally friendly polyester eco acoustic panel developed specifically for the interior and exterior of the building. This product is suitable for retrofit or new construction applications.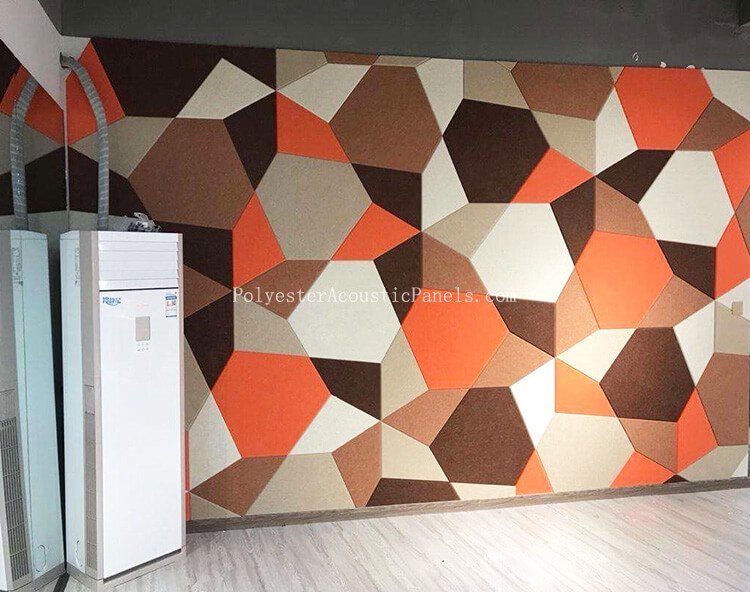 High Density – A more than 1.3 kg/m2 interior acoustic panel to provide maximum noise absorption.
Sound Absorption – Has a high NRC rating that helps to reduce echo, unwanted reflections and reverberation.
Cost-effective – Provides attractive but efficient soft sound acoustic panels at a cost-effective price.
Versatile – for acoustic processing in a home theater, studio or game room, or as a desktop privacy panel in the office.
Geometric Acoustic Panels Specifications:
Ingredients – 100% polyethylene terephthalate (PET) (60% recycled content)
NRC – 0.7 – 0.95
Color – multiple color ranges
Shape and finish – plain weave, acoustic panel triangle, stripes, dots, bends, etc.
Thickness – 8 mm, 9 mm, 12 mm
Fire protection – Class B1
Edge – square, bevel acoustic wall panels
Density – 110 Kg/m3 – 185 kg/m3
Recyclability – 100% recyclable – regular
Standard size – 1220 mm x 2420 mm, 600 mm x 1200 mm, 600 mm x600 mm, 300 mm x 1200 mm, etc.
Improve the sound clarity and acoustics of the room with Geometric Acoustic Panel.
Ideal for recording studios, home theaters and karaoke rooms
40 colors to choose from
Note: The actual color may vary slightly depending on the monitor settings.