Acoustic Non Woven Fibre Panel
Compressed poly fibre board is suitable for a wide range of thermal and acoustic applications in home and commercial buildings – applied to the surface of existing wall, suitable for factories, workshops, theatres, cinemas, halls, offices, gyms, cultural centers, in fact, wherever the focus is reduced noise and echo!
The acoustic non woven fibre panel is made of black or white 100% expanded thermal bonded polyester fiber. The fibre material for acoustic panel has the highest level of fire protection and is suitable for inner lining products. The polyester compressed acoustic fibre panel is a semi-rigid sheet of black or white polyester with a white, black or gray polyester inside.
Acoustic Non Woven Fibre Panel Product Details
Size: 1220x2420mmm,
Thickness: 9mm, 7.5-25mm, other sizes available
Density of polyster fibre board: 1100gsm-3600gsm
Fire protection: GB8624, ASTM E84
Environmental protection: E1 polyester acoustical panels
Acoustic performance: NRC 0.8 or higher
Colors and patterns: normal, 3D, printed, textured, 16 standard colors.
Packing: plastic bags and cartons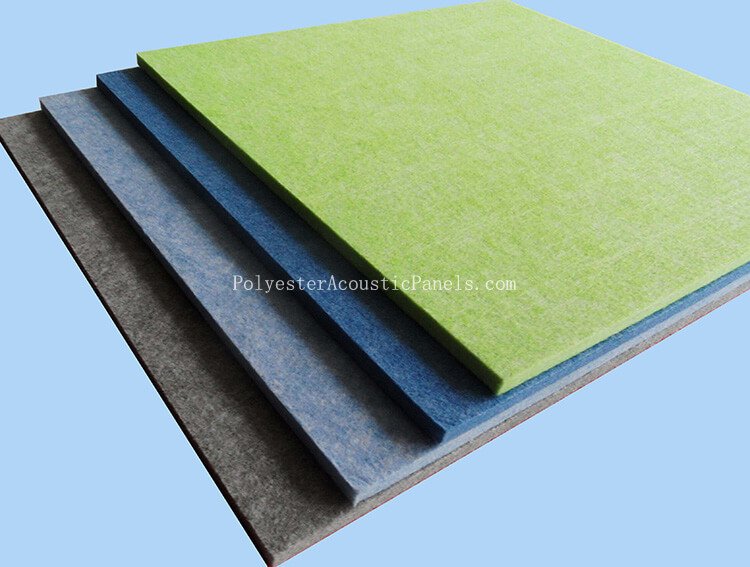 Why choose polyster fibre boards?
???Made from fibers in recycled plastic bottles fibre material for acoustic panels
???Create a healthier, more comfortable environment.
???Meet fire performance requirements for inner surface lining.
???Create a more energy efficient environment.
???Safe to operate and easy to install fibre panels for wall acoustic board.
???Can be used in a variety of applications within buildings, including sleeping spaces (commercial) and HVAC pipes (internal and external) outlets, walls and ceilings
???Reduce the spread of sound fibre wall panel on acoustic ceiling
???Made of non-irritating fiber, tasteless.
???Excellent durability and one year warranty.
Looking for the top acoustic non woven fibre panels?
By installing compressed poly fibre boards in a home or commercial building, you have chosen a product that meets the highest material requirements to meet new fire performance requirements. Polyester acoustic non woven fibre panel one of the easiest to use lining solutions in buildings! Polyester sound absorbing panels can be used in any interior surface lining applications for commercial and residential construction.
Therefore, when specifying or installing a polyester absorber, you don't have to worry about using multiple products to meet the different internal surface fire protection requirements of your building. We are not just making absorption or insulation, we are creating a better environment.