Acoustic Absorption Panels
Polyester acoustic absorption panels are made of polyester and has been proven over many years of clothing and the harshest climatic conditions. Polyester sound absorption panel is dust-free and does not cause any other irritating skin.
???User friendly – no protective clothing required
???Non-irritating – no allergies, non-toxic, safe to operate
???Durable – Over time it will not sag or loose its attic or loose.
???Acoustic performance – Provides excellent sound insulation to keep your home quiet.
???Fire Safety – Fire protection, exceeding all requirements.
???Insect Resistant – Completely resistant to insects, pests and biological attacks.
???Performance – Does not absorb moisture, is fully recyclable, and performance is guaranteed.
Acoustic Absorption Panels Product Specifications:
– Material: 100% polyester
– Thickness: 9mm, 12mm, 15mm
– Size: 2420x1220mm
– Density: 1.3 kg/m2, 1.7 kg/m2
– Style: sturdy
– High acoustic absorption coefficient
– Usage: acoustic projects
– Color: 40 colors
– Fiber type: short fiber
– Pattern: Silicidation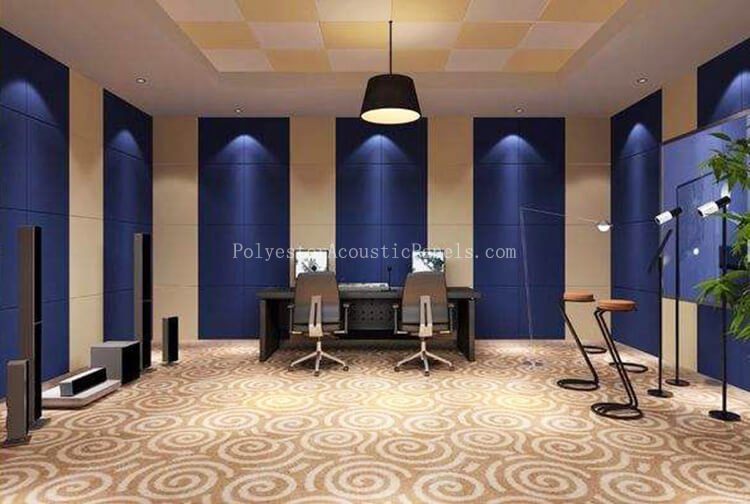 Moisture Absorption:
When the polyester fiber sound absorption panel is exposed to an environment of 50°C and 90% relative humidity for 4 days, the polyester fiber has a moisture absorption rate of less than 0.03% by weight. The durability of the compressed polyester for sound absorption is not affected by moisture, mold or mold and does not rot or deteriorate in its intended use.
Acoustic Performance:
The acoustic absorption panel is designed to help control the reverb (echo) noise inside the building and help to reduce noise levels. The average absorption of the polyester acoustic absorption sheet in the frequency range of 250 Hz and 2000 Hz.
VOC Emissions:
Polyester fiber sound absorption panel has been tested for chemical emissions and is classified as low VOC. VOC concentration: 0.01mg / m3 (7 days)
Acoustic Absorption Panel Handling:
There are no known health effects for the handling, use or exposure of thermally bonded polyester insulation products. Eye and hearing protection are recommended when using this product, especially when cutting products with mechanical equipment. Dust nuisance may occur when processing this product. Dust masks should be worn to minimize the possibility of irritation.
Service:
For more information on acoustical compressed polyester panel, acoustic pads or any other acoustic products, please contact us.