Theatre Acoustic Panels
Polyester theatre acoustic panel is a 100% recyclable insulation and sound insulation material made from recycled PET bottle fibers without the addition of resin, without the use of water during this process. Home theater acoustic panels are manufactured without resin, has maximum heat and sound resistance, and combines the advantages of light weight and ease of transport and handling, because it does not loosen fibers, does not irritate the skin, and is inert.
Polyester theatre acoustic panels are an ecologically correct sound-insulating material. It is a combination of different types of fibers. Each fiber has the special characteristics of heat insulation and sound insulation, making the home theater acoustic panels conform to the stric building requirements.
Theatre Acoustic Panels Specifications
Dimensions: 2420x1220x9mm, 600x1200mm, etc.
Thickness: 9, 12mm, 15mm
Density: 1.3 kg/m2, 1.7 kg/m2
Improve the sound clarity and acoustics of the room
Ideal for recording studios, home theaters and karaoke rooms
40 colors to choose from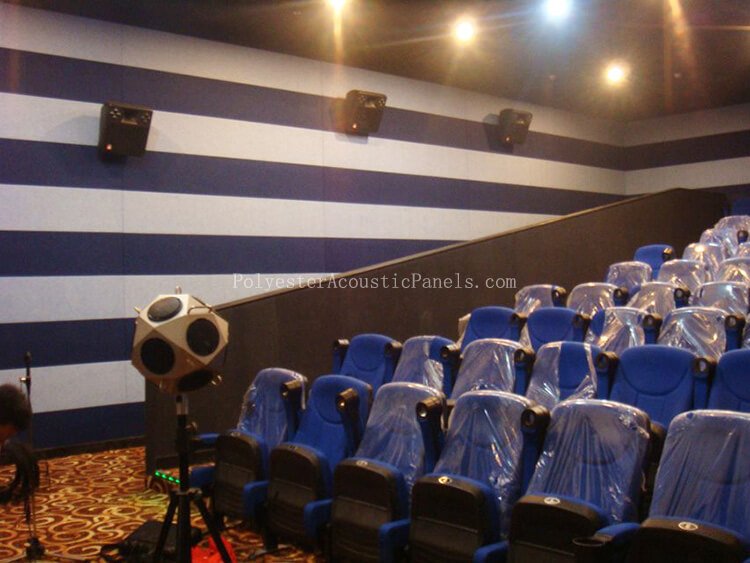 Here are some of the main advantages of using polyester acoustic panel (according to the manufacturer):
– 100% recyclable
– Easy to install and handle, avoiding dirt and delays in the construction site;
– Do not allow fungi or bacteria to multiply, from insects, birds or rodents;
– Anti-allergies types of acoustic panels, not carcinogens;
– Industrial acoustic panels
– It is lightweight and suitable for any type of project.
Good Fire Resistance
Fire rating is a very important requirement for decorative materials, especially in many public places such as dance halls, KTV, cinemas, theatres, auditoriums, stadiums, hotels, acoustic art panels for kindergartens, etc. Polyester fiber acoustic panels china can pass the Chinese government fire protection tested and obtained grade B1, so polyester fiber theatre acoustic panels are a qualified decorative material with good fire resistance. Polyester fiber industrial acoustic panels have good strength, toughness, good sound absorption and heat insulation, so it's widely promoted and widely installed in many large public buildings.
Easy Installation
It is possible to apply glue or use environmentally friendly adhesives to install this acoustic panel. People can cut the theatre acoustic panels into sizes or shapes as needed, which can be cut by directly matching manual cutting tools, which is easy to handle.