Micro Fibre Acoustic Panels
Polyfiber acoustical panel consists of billions of minutes of closed cells, which in turn prevents water and steam from penetrating. A 9mm thick micro polymers fiber acoustic panel weighs about 1.3 kg/m2. It facilitates easy transportation and installation in areas with very small load capacities.
Polyester micro fibre acoustic panels are widely used for studios, home theatres, school classrooms, gymnasiums, halls and hospitality.
Micro Fibre Acoustic Panels Product Specifications
Product Name: Sound Absorber
Composition: 100% polyester fiber (PET)
Thickness: 9, 12, 15mm
Size: 2420 * 1220mm
Color: 40 colors acoustic wall panel cost fiber
Only half or full tray batches are available.
Other lengths of non woven thermoformed fibre acoustic panel are available upon request.
Product tolerances:
Length and width dimensions +/- 10MM. Thickness +/- 10%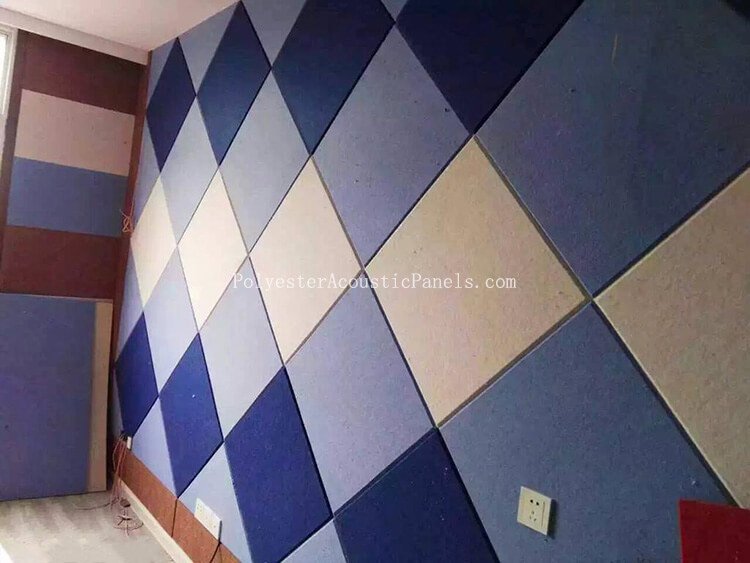 SCHOOL CLASSROOMS & COMMERCIAL:
Use synthetic poly fibre panel approximately 36% of the total ceiling area for most school classrooms and commercial applications including restaurants, cafes, bars, offices and meeting rooms.
Polyfiber Acoustical Panels for STUDIO:
Placement of non woven thermoformed fibre acoustic panels is the key to successful recording and mixing studio acoustics. The two key areas are early reflection damping (primary sonic reflections) and corner bass frequency trapping.
Poly Fiber Board for HOME THEATRE:
Similar requirements and placement to studios. The main difference is the side wall panel placement which is typically further back in the room mid way between the speakers and listening position.
Micro Polymers Fiber Acoustic Panels FIXING:
May be glued using contact adhesive or fixed with standard picture hanging products (available as optional extras).
Synthetic Poly Fibre Panels COMPOSITION:
Poly fiber boards are made of 100% PET fibre. The micro fibre acoustic panel is light, no irritation, eco friendly, washable, fade resistant, fireproof & 100% UK building regulation compliant.